The best-selling, must-have books from America's fastest-rising management consultant and strategist!

Management Courage
Today's workplace is in serious crisis. Thanks to management strategies that dangerously lag behind the times, workplaces are demoralized, under-performing, and failing to attract and retain the outstanding employees necessary for success.
Now—in this national bestseller—Margaret Morford offers the high-impact, breakthrough solutions you need. In seven eye-opening chapters that stand orthodox management on its head, Management Courage — Having the Heart of a Lion reveals how to become the manager you've always dreamed of becoming, the kind organizations dream of hiring — and for whom employees dream of working. Brimming with colorful case studies, "Managers' Mantras," and other how-to helpers, Management Courage also features thought-provoking "Unsettling Questions" to help you get the most from Margaret's personal coaching.
PRAISE FOR MARGARET MORFORD'S TRANSFORMING MANAGEMENT STRATEGIES:
"A must read for all managers who want to be effective! This book is a quick read filled with many immediately useful actions. I finished the book completely re-energized. Management is not for the faint of heart. It is difficult to tell people things they don't want to hear, but it is essential to be able to do so if one is to be a successful manager. With humor and significant insight, Margaret Morford reminds us of the role we've chosen as managers and the commitment required. Management Courage is essential for effective leaders. Margaret Morford is as compelling in print as she is in person."
Mary Steudle
"Management Courage is a nugget of gold among all the self-important and sometimes plagiarized 'how to manage' books. In very concise and easily understandable language, the author lays out a handful of people management principles that most managers do not understand. These principles go against human instinct in herd mentality, but make lots of sense when seriously considered. As a manager with over 30 years' experience, I can count on one hand the number of managers who practiced these principles. They were the outstanding ones. I recommend every manager read this book and then give it to every manager they supervise."
Nicholas Jordan
"Margaret Morford has written a book for business professionals that should be a 'must read'. The questions at the end of each chapter make you stop, think, and review your current management style. After reading this book, you can manage with the 'heart of a lion'. This book is as dynamic as Margaret's seminars are!"
Mickey Levee,
"Do you want to test your Management Courage? Read this down-to-earth, insightful, thought provoking, easy to read, challenging and entertaining book. By far the best management book I have read in many years. This is a book you will want to read in one sitting – really!
Connie Helleson
The Hidden Language of Business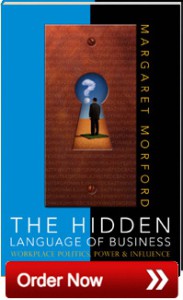 What is the real secret of advancing professionally? How can you avoid common missteps that condemn others to unsatisfying or not-fully-realized careers?
"I've come to see workplace politics as 'the hidden language of business.' Knowing this hidden language allows you to operate with peak effectiveness in the workplace.
And not knowing it—not possessing this crucial intelligence—
easily can doom your career."
Margaret Morford
In this breakthrough, career-boosting book, Margaret Morford puts the answer right in your hands. The secret, Margaret says, is to understand and apply the positive political skills that are "the hidden language of business." Chapter after chapter, Margaret reveals the 44 make-or-break rules of "positive politics" you must learn to maximize career advancement and avoid career-destroying land mines—all while keeping your soul intact. By reading this book, you'll gain exciting access to this hidden language—this inside intelligence—that is so crucial to successfully navigating your career path. You'll also gain Margaret's razor-sharp insights into how to tell who has real power and influence in your organization . . . how to forge a better relationship with your boss . . .how to choose a great career mentor . . . how to engage in the right kind of career planning. . . and much more.
"Office politics is crucial," says internationally renowned management consultant/author Margaret Morford. "But not that kind of politics. The office political skills you need are positive, ethical, and powerfully nurturing of everyone around you. They are the only way to fully actualize your human and professional potential in the workplace."
Now—in the breakthrough book The Hidden Language of Business: Workplace Politics, Power & Influence—Ms. Morford offers the first-ever complete guide to developing the positive, ethical "political skills" essential to being everything you can be in your career.
In 10 eye-opening chapters, Margaret reveals the 44 make-or-break rules of "positive politics" you must learn to maximize career advancement and avoid career-destroying land mines in today's world—all while keeping your soul intact. As the U.S. economy continues to be the ultimate "danger zone" for professionals seeking to advance during perilous times, the razor-sharp, in-the-trenches insights offered in The Hidden Language of Business are the crucial intelligence professionals need to power-up their careers.
PRAISE FOR MARGARET MORFORD'S INSIGHT:
"I found Margaret's second book to be just as helpful as her first book. It contains practical tips or "rules" for how to be successful in business told through engaging, real-life stories. A few of the lessons are repeated or elaborated on from her prior book/seminars but the book is still well worth the investment of your time and money. I only wish that Margaret had written this book sooner…."
B. Mohr
"I wish this book was available when I started my career so I bought it for my daughters. They won't have to make the same mistakes I did. This book is an essential read for anyone who wants to win the game at work."
Lynn Hutson
"Margaret has once again provided thoughtful insight and information for professionals. By sharing advice and stories, we can see how office politics doesn't have to be "bad". This is something I'll read every so often as a self-assessment tool and "gut check". This book would also make an excellent graduation gift for anyone entering the business world. I only wish I had read this 20 years earlier!"
Susan Anderson
"The Hidden Language of Business is easy to read and provides very practical business advice that can be applied immediately. The rules, power signals, and boss questions Margaret provides are all very relevant in business today. This is the book that you wish had been written years ago as it covers so many things you wish you had known earlier in your career. Not only does this book provide a positive overview of workplace politics, power, and influence, it provides a good self-assessment tool. This book is definitely worth your time and investment."
Glenda McCall